Block Printing On Fabric at Studio Smith, Tain. £55
Saturday 27th April 2019 12-5pm

Hand Print and Make a Unique Lampshade at Studio Smith, Tain. £68

Saturday 30th March 2019 12-5pm

Sunday 31st March 2019 12-5pm 1 SPACE AVAILABLE

Saturday 25th May 2019 12-5pm

Please contact me if you would like to be put on the waiting list in case of any cancellations.
Gift Vouchers
Gift Vouchers are available to purchase; why not treat yourself or a friend to a wonderful inspiring day of printmaking, great fun, learn a new skill, make new friends and eat cake!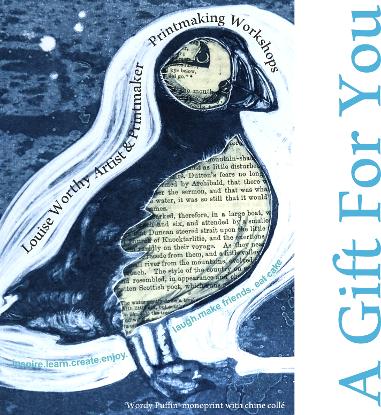 Drypoint Etching and Chine Collé Workshop, Golspie Gallery 25th March 2017
Student Feedback:
'Fabulous workshop. Great fun and good company. Louise's relaxed and helpful leadership made it a day to remember with artwork I am proud of creating. Many thanks!' G.Ward, Tain.
'Another excellent workshop. My artistic ability on a scale of 1:10 is probably 3. I surprise myself every time due to Louise's ability to support and help you through the processes.' J. Fryer, Tain.
'Another enjoyable printing experience and I enjoyed meeting up with other previous course participants. I felt a bit daunted at the start but as previously the instruction and pace were just right. I really like the workshop area.' V. Charge, Evanton.
'Very well set up, very friendly atmosphere, very enjoyable.' L.Wood, Rosehall.
'Another lovely workshop, lots to do, lots of instruction, lovely range of materials, very enjoyable.'
D.Houston, Rosskeen.
'Block Printing on Fabric' Golspie Gallery 2016
Student Feedback:
'Really enjoyable. Broken down into nice easy stages. Great to have a tea towel to take home-a good present. Lovely to watch and learn from others. (Fabulous cake, thank you) ' K.Smith, Tain.
'Lovely friendly workshop well informed & guided throughout. Really, really,really enjoyed.' C. McBeath, Golspie
'Such an enjoyable and educational workshop. Not having done anything like this before I was surprised how quickly something reasonably artistic could be created!' L. MacDonald, Oxford.
'Another informative and fun workshop with Louise, going home with efforts I can feel very happy with. I am very pleased with what I have achieved today and Louise is a very patient and good teacher. Looking forward to the next one!!' P. Ward, Tain.
'Fair to say creativity is a challenge for me. This friendly and informative workshop unleashed the artist in me. A great day and it flew by. Oh, and it was nice to go home with a product of my endeavours.' J.Fryer, Tain.
Drypoint Workshop, Kincardine Church, Ardgay
Examples of work produced during the Collagraph Workshop 27th September 2014 Kincardine Old Church, Ardgay.